Roxane is a French graphic designer living between Paris and Mainz. She currently works for the auction house Artcurial where she carries out communication, art direction and advertising projects for the design, luxury & lifestyle departments as well as the European offices. Her ceramic work will be part of the upcoming edition of 1000vases, taking place at the Galerie Joseph during Paris Design Week in September 2020. We visited her at her Mainz apartment, where she showed us her recent work and told us about her designs and creation process.
What does it mean to you being a female creative in 2020?
In opposition to the last centuries, I think we're no longer carrying as much weight as women back in the days. Although female artists or designers are still underrepresented in this cultural field, social media contributes to develop another dynamic where no one is bound to the walls of an institution in order to be represented. Everyone has the same opportunity to be seen. Being a creative woman actually becomes quite common today.
I just think this 'internet permanent show' raises further questions for women. I still have the feeling that people expect us to play the female artist, by selling a lifestyle-beauty-art full package. Not that I'm against it, but it's quite hard to talk about a woman's work without putting a face to it. Would being feminist mean we should fully take advantage of our female physical attributes or wouldn't it be quite a statement to be physically unknown? Our work should be enough, right? I'm quite divided on this point and still wondering, not knowing where I should stand.
My wish is that works wouldn't be labeled by gender in general.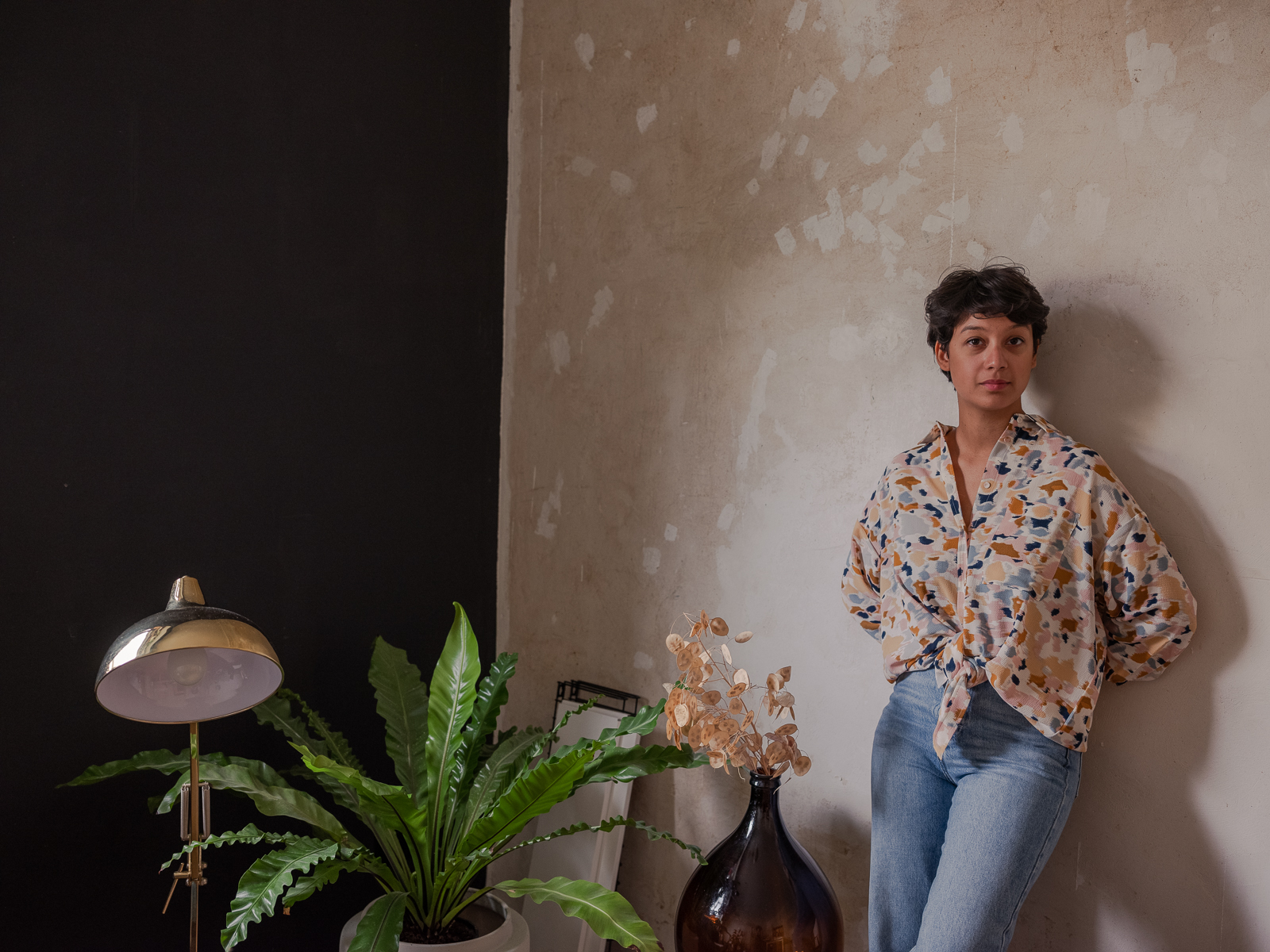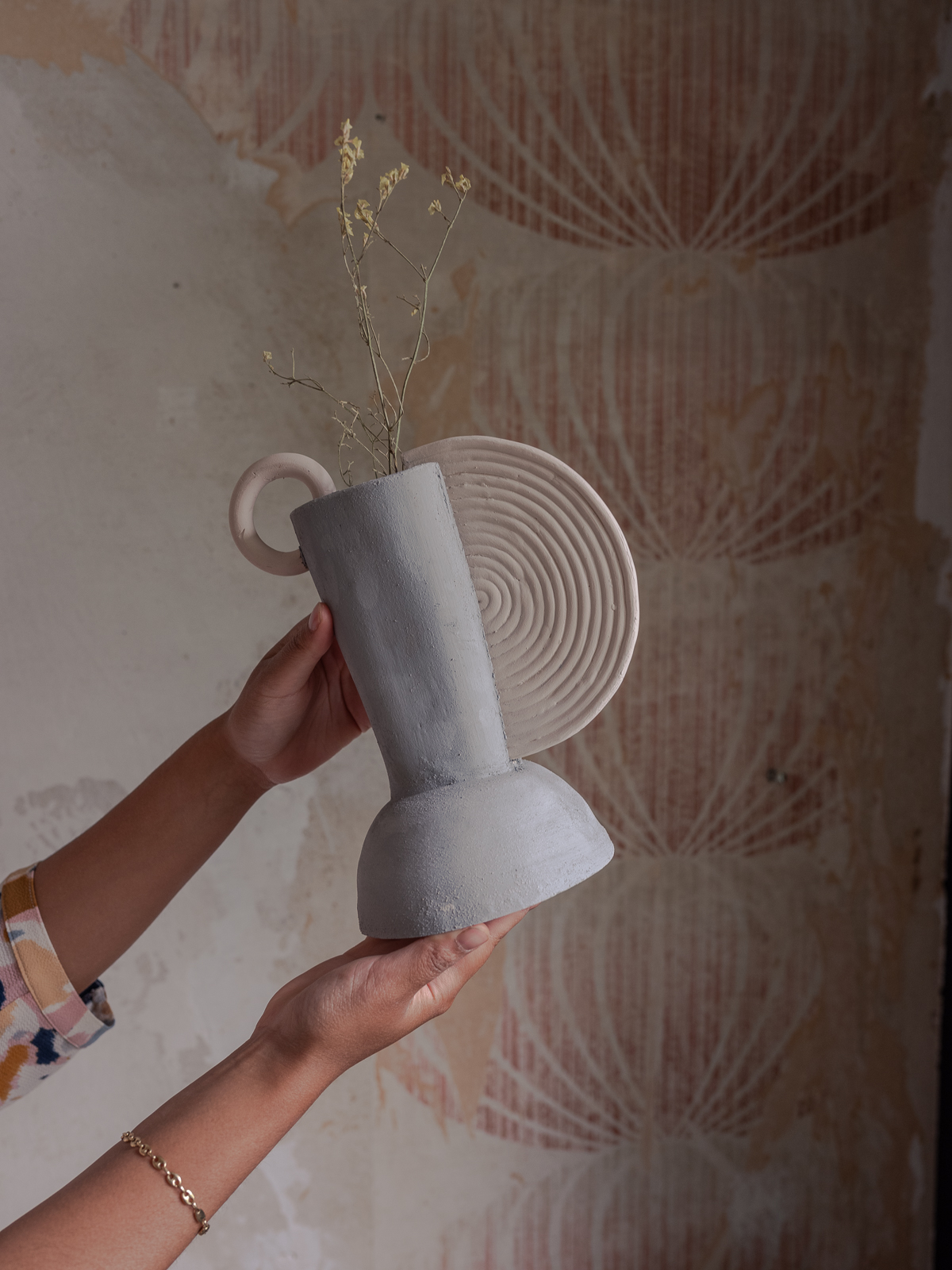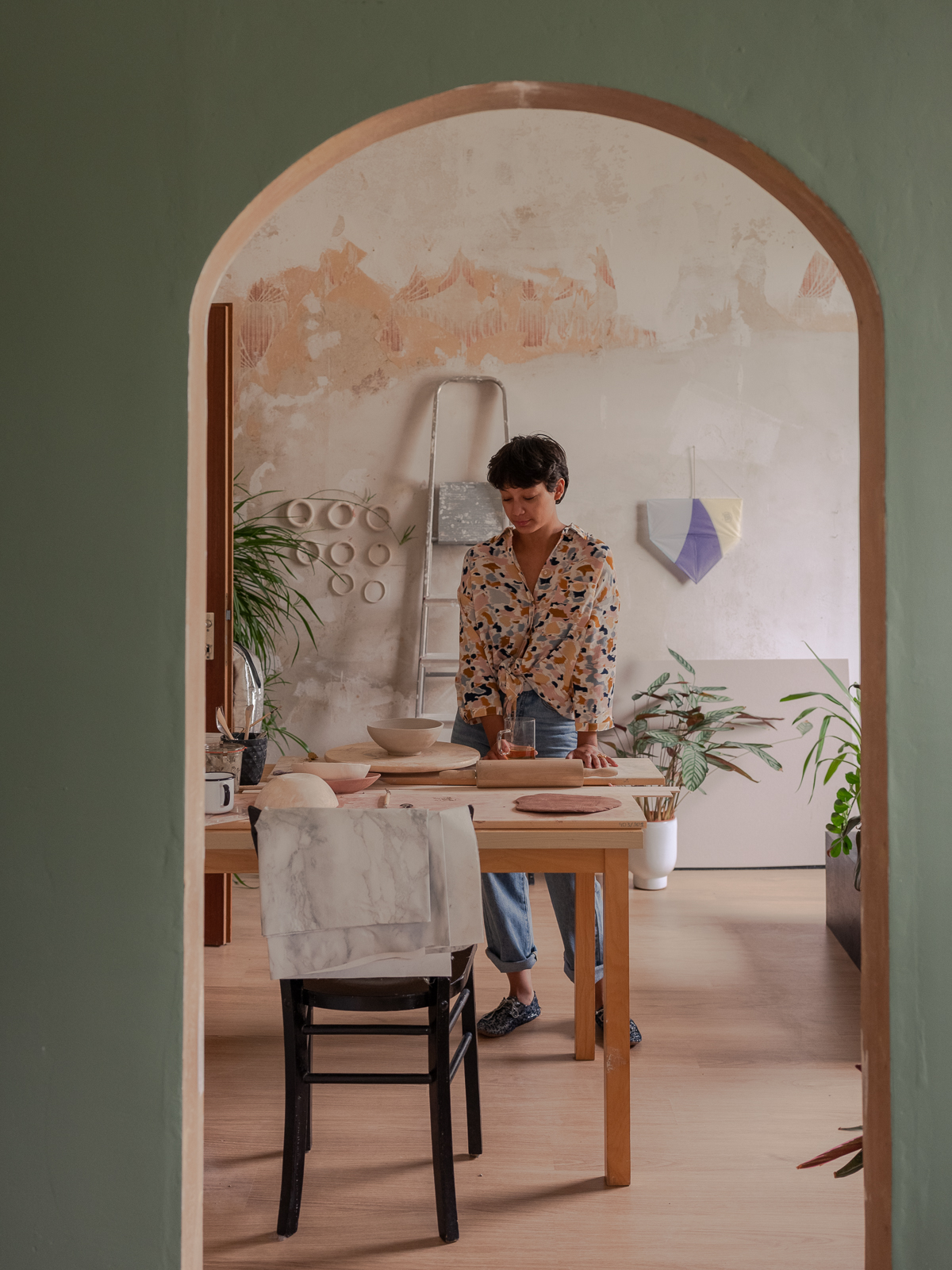 How did Corona affect your work and the way you create?
Honestly, if I could have a two month break every year from now on, I'd sign up! Being home provided an opportunity to slow down and dedicate time to side projects, stop running between two countries and step out from a very energy-consuming job.
When I heard that borders between France and Germany were closing, I couldn't just stay in our flat in Paris. I packed 30kg of clay (because I was panicking about the idea that I'll have to keep myself busy if I stop working) and jumped on the next train to Germany. In the end, all the auctions were on hold and I had to do very few things for Artcurial which gave me all the time I needed to just sit down and work on something else other than graphic design. During the quarantine, it was so easy to produce on a daily base. Usually, I do ceramics one or two evenings per week. These past months definitely opened new perspectives and forced me to think about what my long term goals are for my career. I truly love art direction but now ceramics is also part of this balance.
Why pottery? Did you just start, or have you been working with clay before?
Actually, it came from my mother when she started a few years ago. I was always so curious about ceramics but couldn't find a ceramic studio in Germany where we're living. One day, I passed by the atelier where she practices in France and I was hooked. I really wanted to spend my summer at the atelier so I made quite a good deal with the teacher by suggesting that I'll design the atelier identity [atelier Imagin'argile], in exchange for some courses. Back then, I remember being so obsessed about having my own plate set like the one Anita Le Grelle did for Serax.
And why pottery? Well, I can shape any items that I love to have at home, from flower pots to plates or sculptures… I'm currently working on a series of lamps and miniature iconic design chairs. Clay covers such a wide range between product design and art.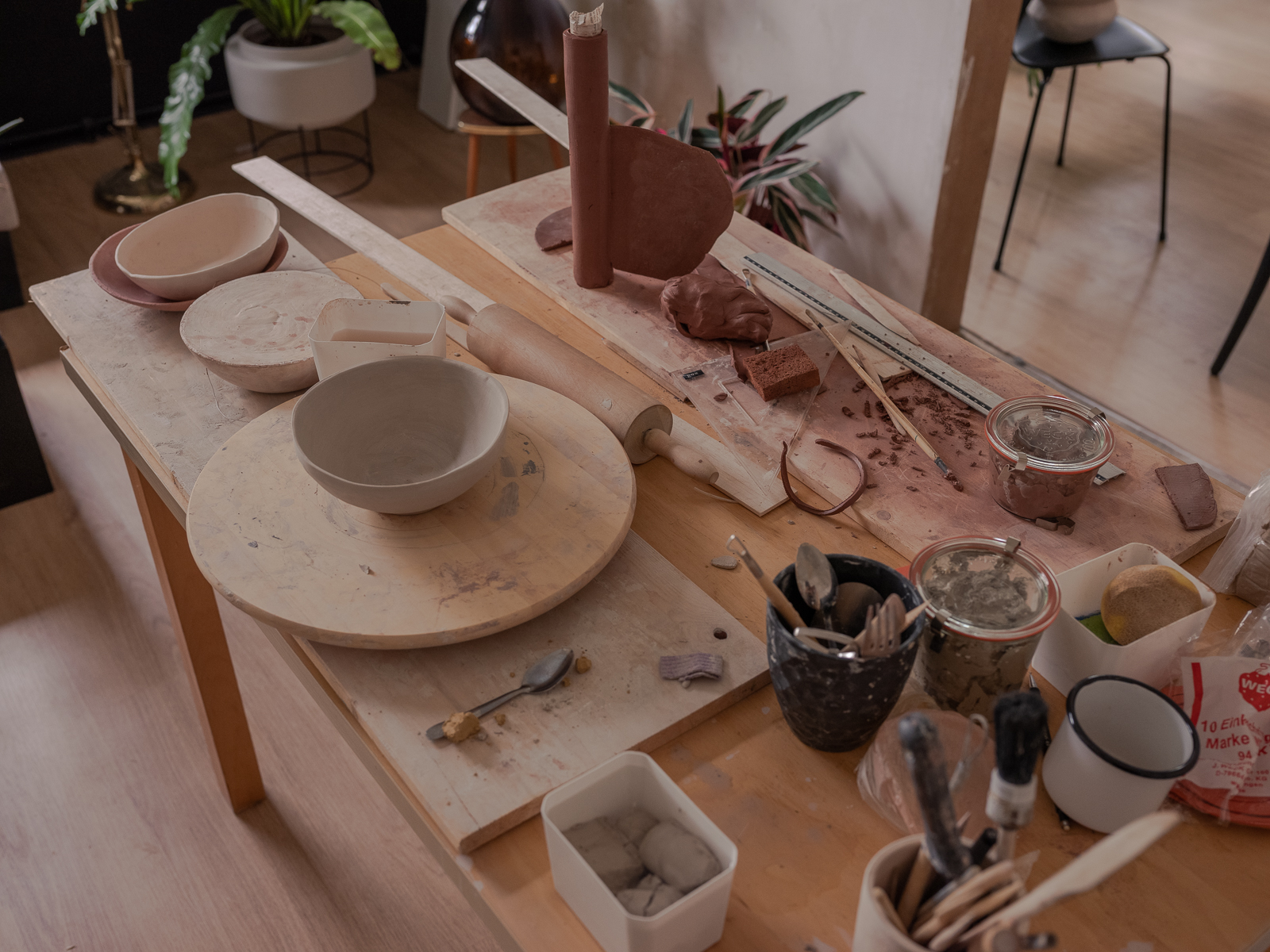 I still have the feeling that
people expect us to play the female artist,
by selling a lifestyle-beauty-art full package.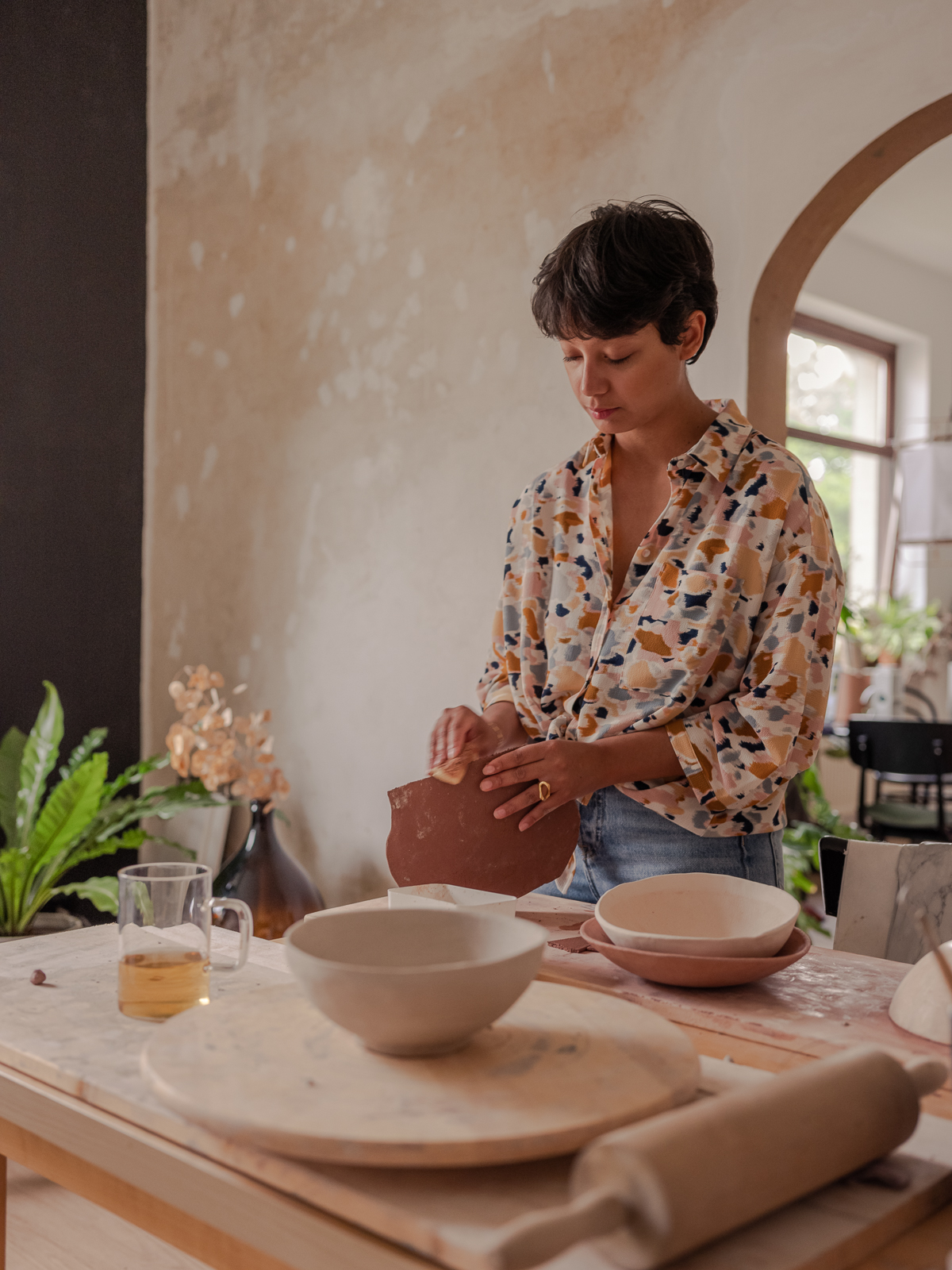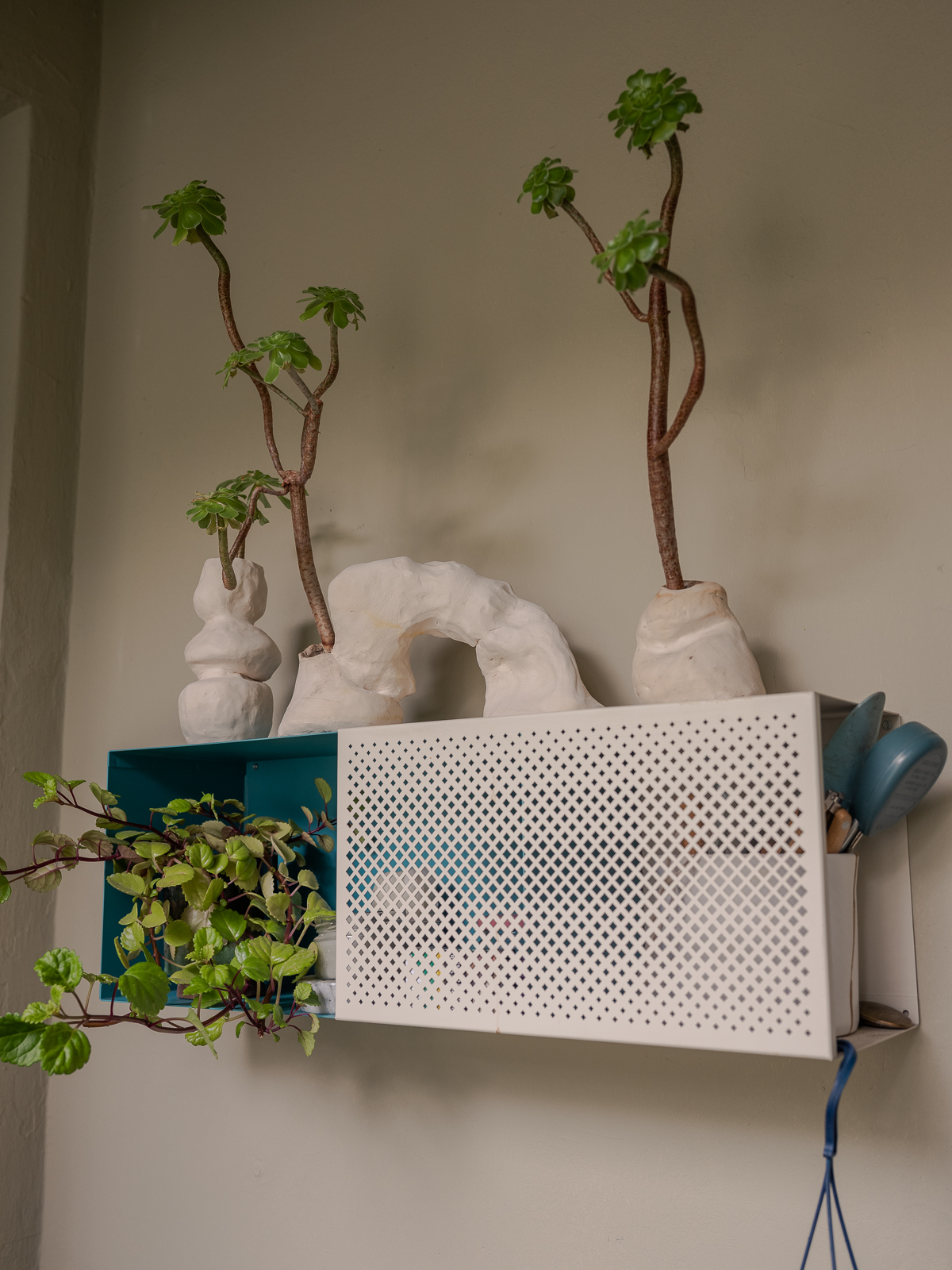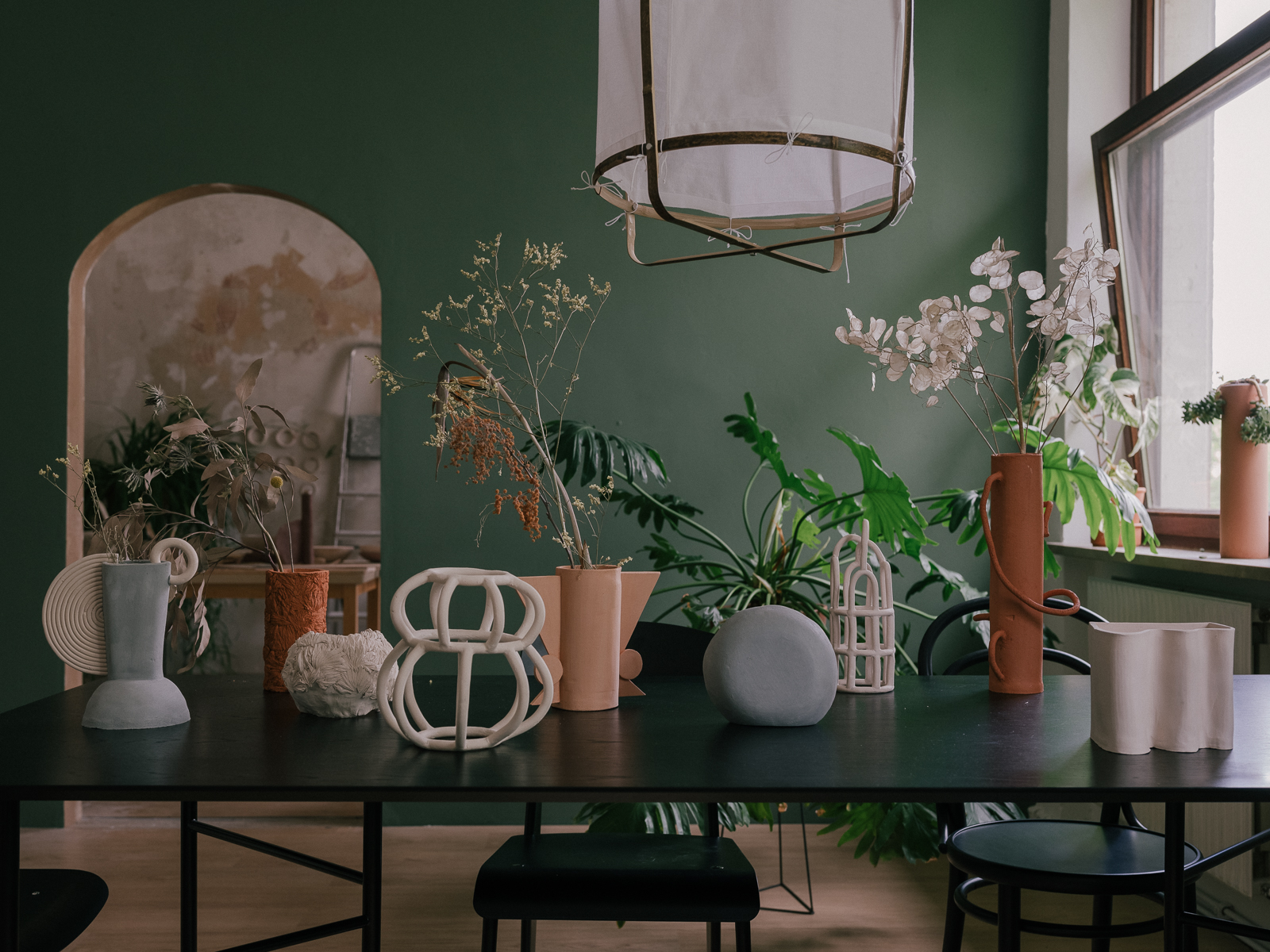 What does it mean to have your own room for yourself for your creation?
It's paradoxical because it's both similar and opposite to my work. In my daily life, working as a designer means working for people; helping them to find shapes, systems, solutions that they would love and be comfortable with.
'Having my own room to create' means that for once I can just work for myself. Even then, I'm always willing to include other people by asking them what they would like to have, and trying to design shapes that could fulfill some of their wishes.
What advice would you like to give your younger self at the beginning of your career?
'Go on like this!' I'm really happy about the choices I've made and the way things are going so far. I was able to dig into subjects that I was excited to study, and also been very lucky to work with some amazing graphic design studios after graduating. Now working in the art market I have had the opportunity to be in contact with the work and design pieces of major artists everyday. Everything is very complementary.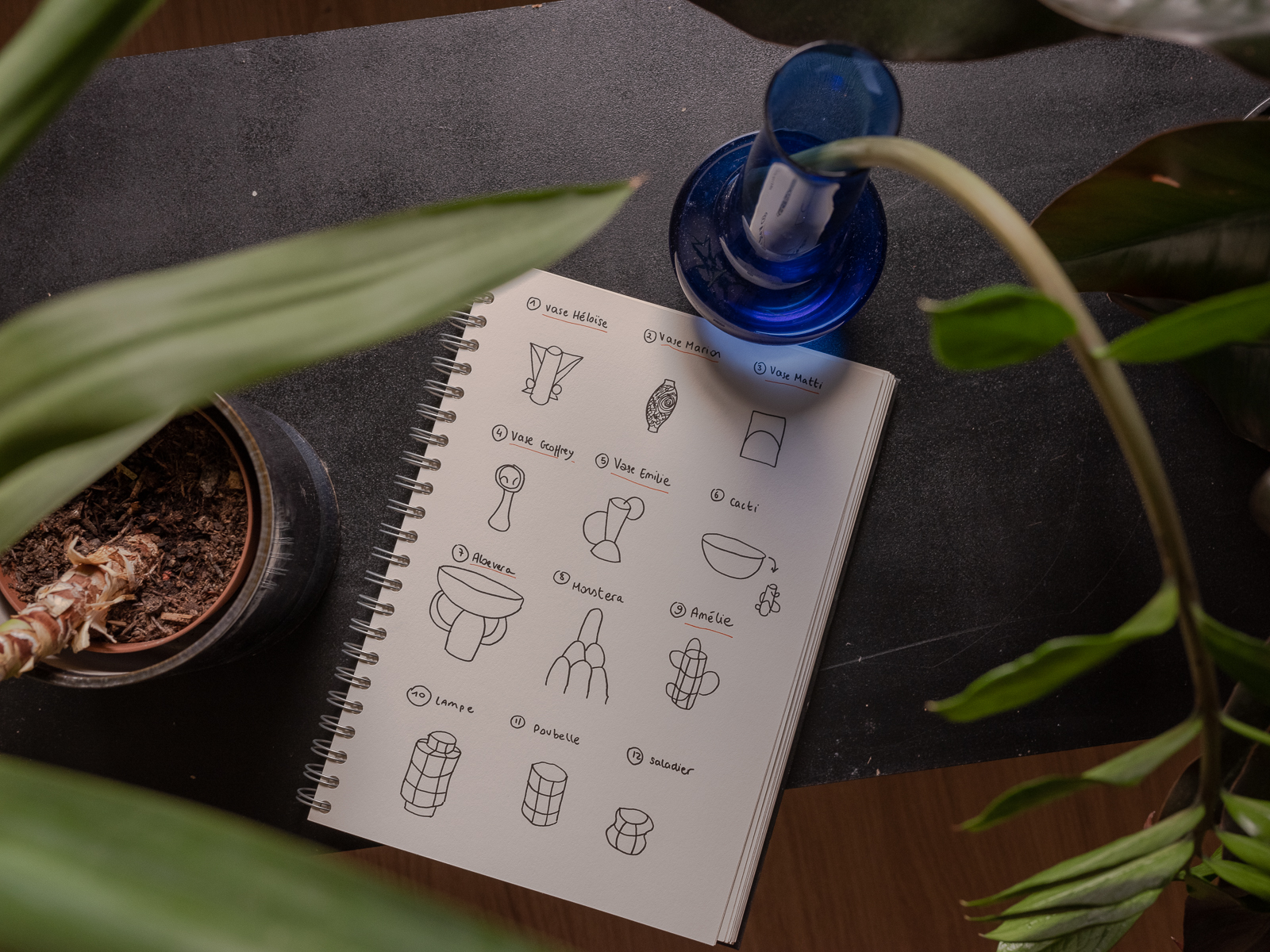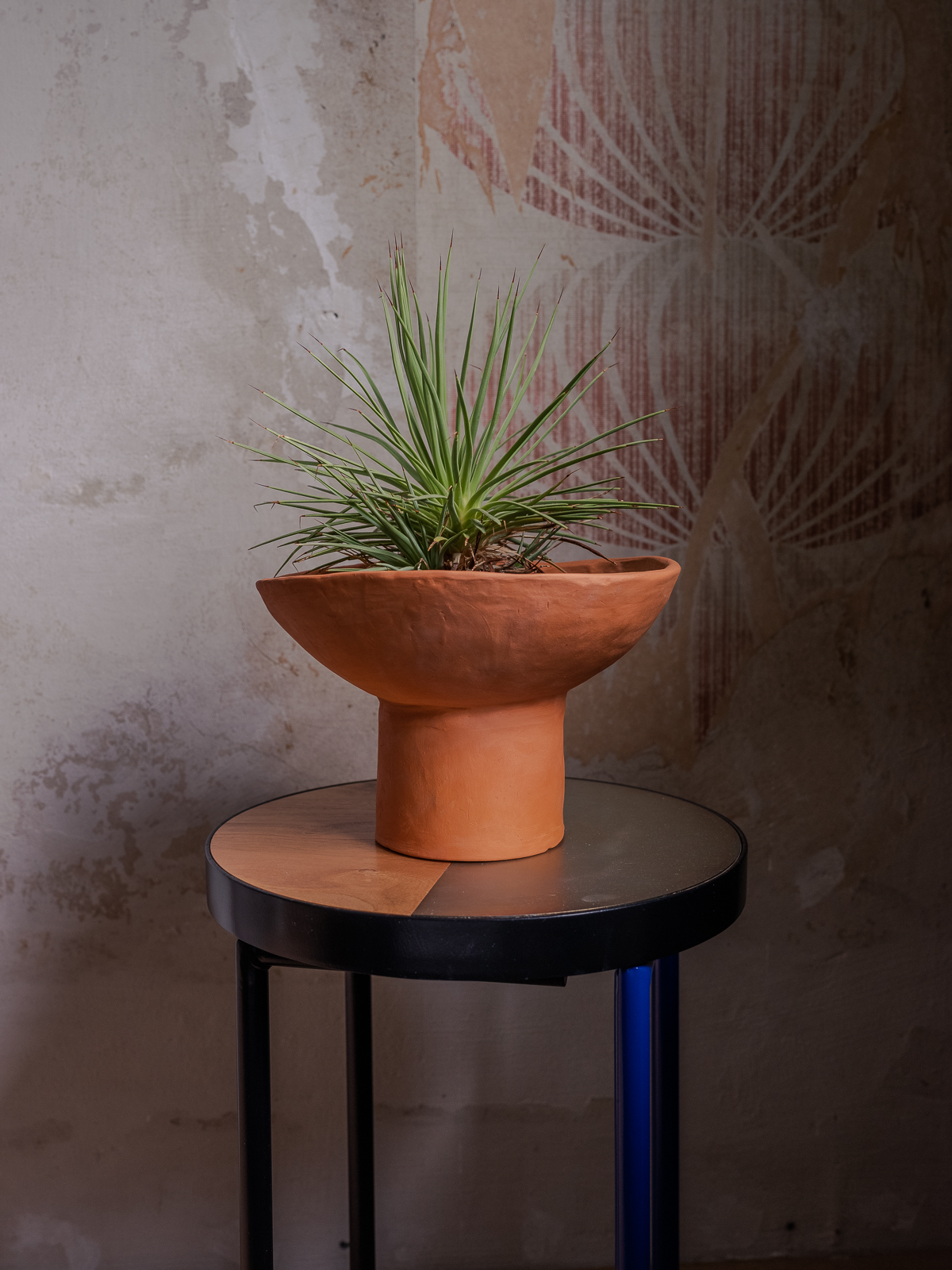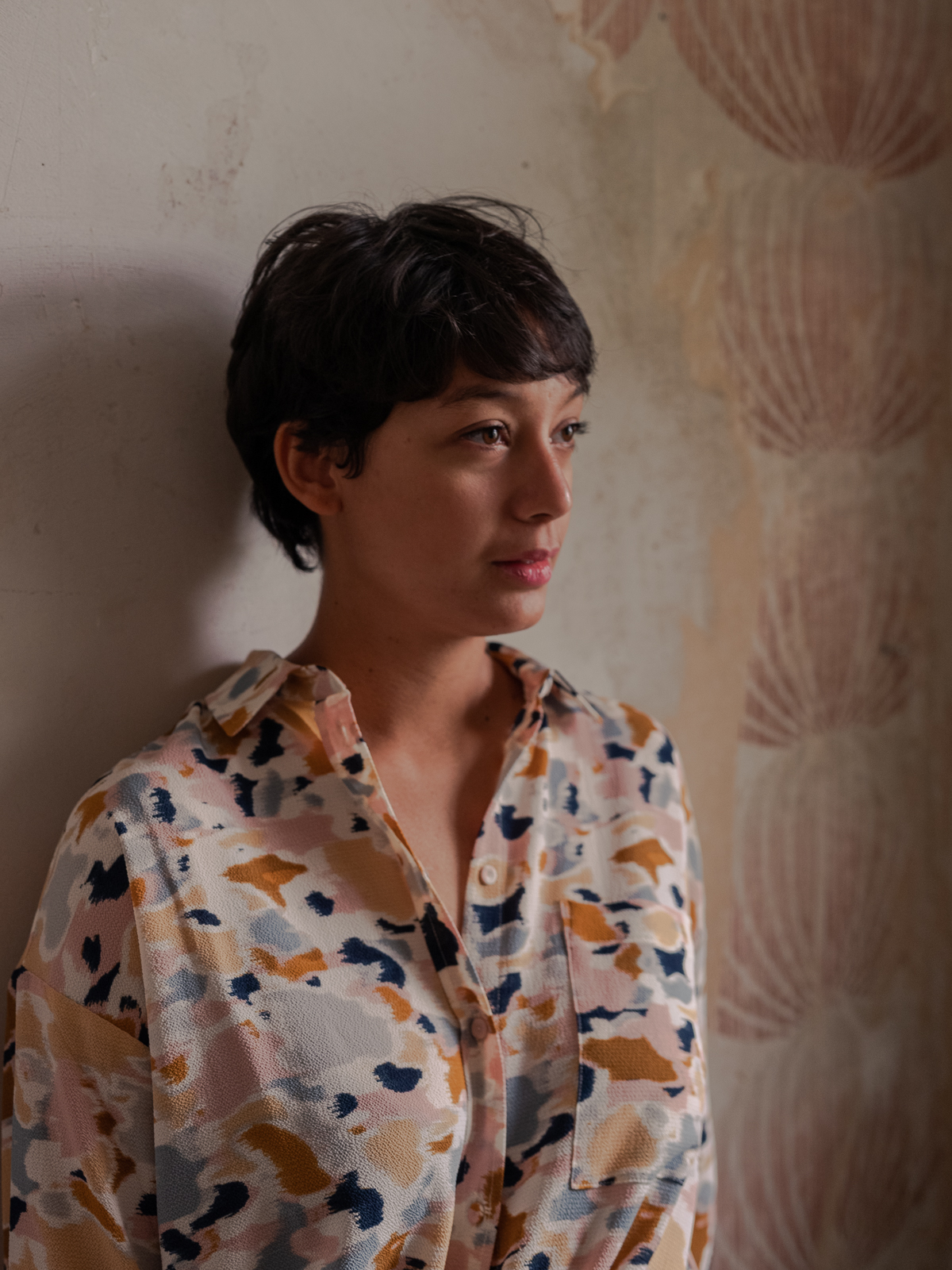 Do you prefer living and working in Mainz or Paris?
The eternal question — one couldn't work without the other! I love life in Mainz, it's so (SO) peaceful. But to be honest, after a few years I really felt the need to be back on track. I missed all the challenges that came with living in a bigger city, the life that never stops, and the stress somehow. Also, the cultural scene in Paris is tremendous. Before the quarantine, there wasn't a week without exhibition opening, fairs, gallery events, vernissages… Today, I've found a perfect balance between very packed weeks in Paris dedicated to work, cultural activities and dinner with friends, with some relaxed weekends in Mainz where we're building up our home. Then, ceramics has to fit into this! I'm a bit frustrated about not being able to dedicate enough time to it.
Your pottery is very much based on shapes – is there a specific topic for these series, or do you go as feel?
Both. The series often follow new topics but the general theme is always about plants and flowers. I couldn't just shape a sculpture without wanting to turn it into something that could host a bouquet. We have over hundred plants in both flats combined and a third of them need new pots as they are constantly growing. I was planning on creating new pots for them all but also felt the need to create new forms, develop new techniques, and find alternative shapes than what I was used to doing. So, in April I asked some friends to draw me a vase. This is how the series started. I wish to continue with a lot more!
CHECK OUT @ROXANELHEOTE ON INSTAGRAM